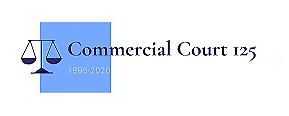 The Commercial Court belatedly celebrated its 125th anniversary with a dinner at the Guildhall, hosted by the City of London.
The event had been originally scheduled for June 2020, and was twice rescheduled owing to COVID-19 conditions. It was finally held on 6 October 2021.
The dinner was hosted by the Lord Mayor Locum Tenens Sir David Wootton and attended by many of the current and former judges of the Commercial Court (including former Lord Chief Justices Lord Phillips and Lord Thomas).
Also in attendance were Justice Minister Lord Wolfson of Tredegar, the Lord Chief Justice Lord Burnett, the Master of the Rolls, the President of the Queen's Bench Division, the Chancellor of the High Court and the President of the Law Society.
Speeches were given by the Lord Mayor Locum Tenens, Lord Wolfson and the Lord Chief Justice, whose speech can be read on the judiciary website (opens in a new tab).