International Women's Day 2022: In conversation with Mrs Justice Ayesha A. Malik
For International Women's Day we had the privilege of speaking with Mrs Justice Ayesha A. Malik, noted to be the first woman to be sworn into the Supreme Court of Pakistan. In our interview the judge reflects on her career in the law, the importance of women in leadership roles and what International Women's Day means to her.
Can you introduce yourself?
I was born in June 1966. My education was completed from schools in Paris, New York and London and I acquired my B. Com from the Government College of Commerce & Economics, Karachi and my LLB from the Pakistan College of Law, Lahore. I went on to acquire my LLM from Harvard Law School where I was named a Landon H. Gammon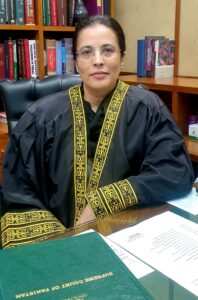 Fellow for academic excellence. I started my legal career working at Fakhruddin G. Ebrahim & Co and ultimately went on to become a Partner at Rizvi, Isa, Afridi & Angell, where I spearheaded the corporate & litigation department at the firm's Lahore office. I have been a Lecturer in Banking Law (University of the Punjab) and Mercantile Law (College of Accounting and & Management Sciences, Karachi).
I have also volunteered my time to the Hermann Gmeiner School, Lahore, teaching both English Language and Development in Communication Skills. I have worked pro bono, for various NGOs and have focused specifically on poverty alleviation programs, micro-finance programs and skills training programs. In addition, I have been credited with several publications and have been featured in the International Journal of Competition Policy and Regulation Global Law Review, the Oxford Reports on International law in Domestic Courts, and the Journal of World Investment etc.
Before my elevation to the Supreme Court, I was serving as a Justice of the Lahore High Court since March 2012.
What are some highlights of your career/speciality?
I was the Chairperson for the Judicial Officers Female Supervisory Committee which dealt with issues relating to female judicial officers. I initiated the first Punjab Women Judges Conference in 2016. Successful conferences have since been held in 2017 and 2019 and have brought to the forefront the gender perspective and potential solutions to improve the litigation process for female litigants. The conferences led to the introduction of gender-based violence courts, the making of a gender equality policy at the Lahore High Court and, waiting rooms for women and children in courts. They also led to work on gender sensitisation training for judges.
As a Justice of the Lahore High Court, in addition to my position on the bench, I have been a member of the National Judicial Automation Committee overseeing case management, the pace of litigation and effectively harnessing information technology to ensure speedy dispensation of cases. Being a Board Member of the Punjab Judicial Academy, I have contributed successfully to the academic developments therein. I have also trained judges locally and internationally on gender sensitisation in courts and on managing a more gender sensitive court. I have also been a Member of the Federal Review Board. I have also delivered training in environment courts and banking courts.
What made you decide to pursue a career in law?
I always wanted to be a lawyer. I was inspired perhaps by Erle Stanley Gardner's character Perry Mason, who was a criminal defence lawyer. I used to think of myself as this famous lawyer, probably solving murder cases. Eventually, I discovered that my passion was litigation.
Did you face any challenges to become a judge in your country?
Perhaps the biggest challenge faced by women when they become judges is acceptability, as historically, the legal profession was not regarded as a suitable one for women. As time progressed so did women and today women enter the legal profession  by choice. Women judges, just like women in general who wish to pursue a career, need the support of their families, and so acceptability starts from home; from a family which that not only allows her to pursue her profession but enables her to pursue it as well. Acceptability is also required at the workplace where the narrative needs to change and women in the profession need to be considered the norm and not the exception.
Acceptability also suggests another challenge that is the mindset. This basically means that the systematic assumptions and presumptions made about women need to fade away. Competence, merit and integrity should be viewed as the same for all. Yet even today, there is difference in how litigants and even lawyers perceive women judges and women lawyers. These challenges, hopefully, will change over time and the changes will help bring about infrastructure changes, environment changes and most of all give visibility to women in this profession.
How do your friends and family feel about you being a judge?
The response from my family and my friends has been overwhelmingly supportive and full of pride. I am thankful to be surrounded by such encouraging and positive minded individuals in my life.
Why do you think it's important to have more women in leadership roles?
Women have a role to play in bringing their gender perspective into the narrative. Similarly, women judges have a role to play in bringing their gender perspective to the forefront and introducing more inclusive thinking because women judges are possibly able to recognize the stereotype, the bias and discrimination and the causes of harassment etc. This is because they are influenced by their own life experiences, environment, and circumstances. This makes their gender perspective relevant because women judges bring a different set of experiences and influences which then shapes their thinking and is reflected in their reasoning in the judgments. They may even have new solutions for these issues. I may add, it is not about something that only women judges can do rather, it is about inclusiveness and diversity, where a different perspective, which represents half of the population becomes part of the narrative.
Why do you think celebrating International Women's day is important?
Women's day is a day to celebrate being a woman and a day to remind ourselves that anything is possible. It's a day to honour the achievements of women, their struggles and contribution and to remember that we each have a role to play to build a more gender equal world. It's a day to inspire and be inspired. To know, hear and honour the stories of women who work towards bringing equality.
Have there been any women who have inspired you throughout your life/career?
I have been inspired by many women in my life, from my grandmother, my mother and my daughter. They are a source of strength, confidence and resilience. As a member of the International Association of Women Judges, I am inspired by the women judges who show dedication and courage and represent hope for a gender equal world.