Interview with Chancery Master Iain Pester
Following the opening of the Judicial Appointments Commission (JAC) competition for Chancery Master, we interviewed Chancery Master Iain Pester on what the journey to becoming a Chancery Master was like and what his experience of it has been so far.
Can you tell us a bit about what made you decide to pursue a career in law, and how that career developed to bring you to the Rolls Building?
I'm Canadian, I grew up in Toronto and I went to university in Canada. I studied Russian history, then came to England because I wanted to do law and could do a BA in law in less time. I did not initially intend to stay, but I decided to do the Bar Training Course (BTC), and then pupillage in a large commercial set. I was called to the Bar in October 1999. My practice was civil, mixed with commercial chancery. I did not practice criminal law, or family or personal injury, and it was very much a mix of insolvency and partnership works, tracing assets, civil fraud, and general commercial.
Having practiced for 20 years I've always been interested in a judicial career, and then two years ago vacancies came up to be a Chancery Master, which I have been since January 2021. So, I have been practicing for about 15 months now.
What does a Chancery Master do, put simply?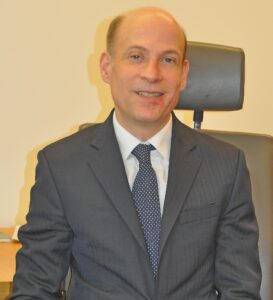 Historically what the Chancery Masters have done is a lot of procedure for cases. Before the trial happens there may be all sorts of interim applications and decision making, for example arguments about disclosure, or which documents should be provided, or arguments about security for costs should one have to provide that. Equally there's a lot of claims and procedures that have always tended to be done by the Masters even if it doesn't have any end necessarily in a trial with witnesses. A lot of work about trusts and wills, partnership claims involving in accounts and inquiries. Traditionally, that's been a big part of what the Chancery Masters have done, with the trial then being done by the High Court judge.
However, since 2015 our jurisdiction has been significantly expanded and we now do trials. We have an overlap of jurisdiction involving cases that could be heard by High Court Judges or could be heard by Chancery Masters. In trials estimated to be five days or less, that would be for the Chancery Masters.
What is the best thing about being a Chancery Master? 
There are two things I enjoy the most about being a Chancery Master. One is that I enjoy sitting on trials. Partly that is from my background as a barrister, and part of it is being able to make decisions. The judge's role is to decide what's fair based on the evidence and submissions and the legal position, and I like having to ultimately make a decision.
The second thing I enjoy about being a Chancery Master is the breadth of legal problems you look at. There's a tendency now to specialize in a fairly narrow area. But the breadth of work and areas of law I see are far wider now that I am a Chancery Master. We cover intellectual property, which can involve liability for operating search engines, arguments about trademarks and design rights and copyright. That's one element of what we do.
We also hear partnership disputes. So that can involve all sorts of businesses, a partnership of a small, independent shop, or your doctor's practice, or a firm of solicitors. We also do wills and trusts and probate, which is more traditional Chancery, and we do general arguments about money, specialized land law, leases. It is a real intellectual challenge trying to get on top of these various areas of law.
Did you face any challenges on your journey, and if so, who or what kept you going?
I had 20 years of being an advocate – going to court and appearing frequently – and I did not sit as a judge before taking up this appointment. It is a qualitative change to start sitting on the other side of the desk. That was a change and a challenge. But having a good familiarity with civil procedure and a number of substantive areas of law helped. When I started, there were six full time Chancery Masters in office as well as deputy Masters. So I have to say I had a tremendous amount of support and assistance from my colleagues. They were all extremely accessible to me, always happy to help me.
How is the work –life balance?
I started at an odd time; during the pandemic. I've had 20 years of going to court and appearing in court but of course when I started as a judge we had moved completely online. It was something to get used to, but it worked very well. In civil proceedings, it enabled us to keep carrying on, to not have to adjourn hearings and to keep providing the service to keep being able to decide people's cases. In fact, the first trial I did was fully remote. Now we're moving back towards having in-person hearings, especially for live evidence or for hearings longer than about half a day. But for shorter hearings, is very convenient that we can do them remotely rather than have people lose time travelling.
Regarding work-life balance, being Chancery Master compared to a barrister working at the bar, it is easier to keep work within defined hours, and to keep evenings and weekends free. But still not always straightforward!
What is some advice you would give to someone who is thinking about becoming a Master? Is it for everyone?
Because the jurisdiction is so wide and because it covers so many areas of law, there is room for a lot of people. Diversity where people bring their own abilities and background to this job is good. Every kind of background comes with some built-in advantage. The main thing you need to have is an interest in exploring different kinds of law that is not necessarily familiar to you. You also need to be willing to make decisions and give reasons to how you got there. You must also keep an open mind until it is time to make a decision and have the ability to listen carefully.