Judges make history as first all-female Court of Appeal sits in Wales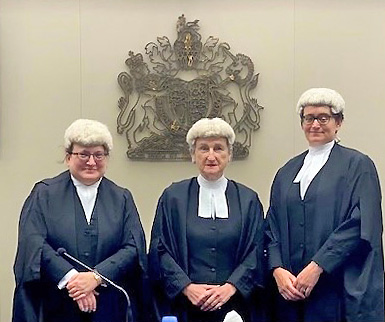 History has been made after three female judges – Lady Justice Nicola Davies, Mrs Justice Jefford and Mrs Justice Steyn – sat as part of the Court of Appeal in Wales. It is the first time the Court of Appeal (Criminal Division) has sat in Wales comprising all women.
They heard cases on appeal from the lower courts for two days at Swansea Crown Court. This was part of the Court of Appeal's regular rotation outside its usual home at the Royal Courts of Justice in London.
All three judges have links to Wales, with Lady Justice Nicola Davies a former Presider of the Wales Circuit, Mrs Justice Jefford a current Presiding Judge of the Wales Circuit and Mrs Justice Steyn acting as the Administrative Court Liaison Judge for Wales.
Lady Justice Nicola Davies was also born in Wales, where she attended a local grammar school before studying law at university. Mrs Justice Jefford grew up in Swansea and was educated at Olchfa Comprehensive School before attending university.
Talking about this historic occasion, Lady Justice Nicola Davies said she was honoured to sit as part of the first all-female constitution of the Court of Appeal in Wales.
She added: "Thirty years ago it would have been unusual to see one female judge sitting as part of the Court of Appeal; to see an all-female constitution is a sign of the progress which has been made in recent years. I hope this will inspire more girls and young women in Wales to consider law as a real and tangible profession and will encourage practitioners to consider applying for judicial appointment."