Lord Chief Justice officially opens Civil and Family Courts and Tribunal Centre in Newcastle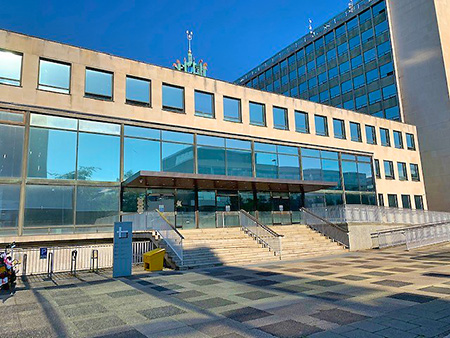 The Lord Chief Justice, Lord Burnett of Maldon, presided over the official opening of a new 25-court centre in Newcastle earlier today (Wednesday 14 July 2021).
As part of a socially-distanced online opening ceremony for the Newcastle Civil & Family Courts and Tribunals Centre, a plaque has been unveiled in its atrium.
While the centre has been in operation since January 2020, the official opening had been delayed due to the ongoing COVID-19 pandemic.
Over the last year or so, judges and staff had moved into the building gradually. All 25 courtrooms across the building's three floors are now in use for in-person as well as remote and hybrid hearings.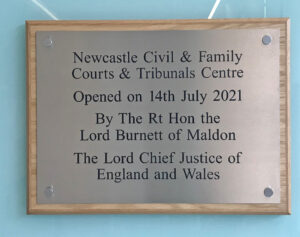 The site is multi-jurisdictional, with six hearing rooms on the ground-floor dealing with Civil, Family and Social Security and Child Support Tribunal work, the first-floor accommodating Civil and Family work, and the second-floor housing Immigration, Employment Tribunals and Family work.
Speaking via remote link, Lord Burnett said: "I am delighted to be able to open formally the new 25-court Civil and Family Courts and Tribunal Centre. This well-equipped building will enable the delivery of justice in a way appropriate for the 21st century.
"The new facility will allow more cases to be heard and provide better facilities for court users including the use of remote and hybrid hearings. I thank all those involved in the building and management of the new centre for the hard work they have put into providing this service for the people of Newcastle."
Also in remote attendance were the Lord Chancellor and Secretary of State for Justice, Robert Buckland QC, and Kevin Sadler, Acting CEO of Her Majesty's Courts and Tribunals Service. Due to ongoing regulations and the need to socially distance, other attendees also joined the event via video link.