The Lord Chief Justice visits Barnsley Academy as part of the Schools Engagement Programme
The Lord Chief Justice, Lord Burnett of Maldon, visited Barnsley Academy where he delivered a talk to students as part of the Schools Engagement Programme. He was accompanied on the visit by Tribunal Judge Carl Gumsley, a Diversity and Community Relations Judge (DCRJ) and Magistrate George Spiteri JP, a Diversity and Community Relations Magistrate (DCRM).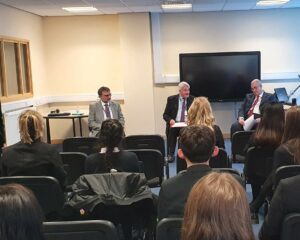 The students had the opportunity to ask questions about the work of judges, the justice system and the rule of law.
One of the students asked the Lord Burnett  about how he remains impartial in cases, particularly with the rise of social media and tabloid journalism. He responded that he simply does not look at any social media regarding cases and stressed the importance of not just listening to the loudest voice. 
When asked about what legacy he would like to have when he retires, Lord Burnett expressed his desire to remove any paper-based processes for the judiciary and to take them all online, and to also make remote justice a reality. 
Speaki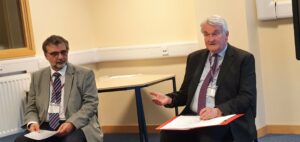 ng at the school, Lord Burnett said:  "Judges hear cases which affect people from all walks of life, whether that's in the criminal courts, a dispute with a neighbour in the county court or a claim for unfair dismissal in the employment tribunal. Whether directly or indirectly, judges' decisions affect the lives of millions of individuals and many people have opinions when it comes to crime. 
"Despite this there is often limited knowledge amongst the general public of how courts operate and the role of judges within them. I want to make it easier for young people to learn about our justice system, why it is renowned around the world and the importance of the rule of law to our society.
"Our school engagement programme aims to make the judiciary more accessible, and we hope it inspires young people to consider a career in law and become the judges of the future!"