University of Manchester's Magistrates Initiative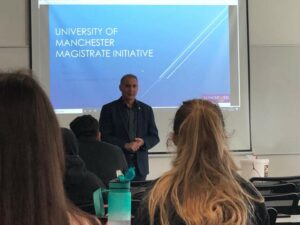 The University of Manchester (UoM) launched its first inaugural young magistrate's initiative on 8 March 2022, aimed at students who were first generation in their families to attend university. The initiative was set up by the Greater Manchester Advisory Committee in collaboration with the UoM and aims to encourage younger people to apply to become magistrates.
Dr Julian Skyrme, Director of Social Responsibility, said: "With social responsibility and civic engagement at our core, I'm delighted that The University of Manchester is the first higher education institution in the UK to pilot such an initiative aimed at addressing the huge underrepresentation of young people volunteering as Magistrates. If successful I can see this being a model at many other universities around the UK."
The students who attended the lunch time seminar heard from Paul Brearley, the chair of the Magistrates Association (and former Bench Chair) on the history and role of magistrates. While Asrar Ul-Haq, Deputy Lieutenant for Greater Manchester and member of the Greater Manchester Advisory Committee delivered a session which covered the recruitment process, criteria and skill set needed to become a magistrate. He said: "I am delighted that the UoM have launched the very first Magistrates initiative being run by a university. The high calibre of participants will bring a fresh perspective in ensuring justice is delivered equitably whilst at the same time providing a fantastic development opportunity for the students and an opportunity to make their communities safer."
At the end of the session, Peter Faulkner, the future Bench Chair for Greater Manchester, Paul Brearley and Asrar Ul-Haq answered more specific questions raised by students around sitting days during term time, as well as the role and responsibilities of magistrates.
​Greater Manchester will be recruiting magistrates in the summer and students who attended will be encouraged to submit applications to become magistrates, supported by four serving magistrates (who are also teaching staff at the University).
If you are interested in becoming a magistrate, please visit the magistrate recruitment site.